Safe Fishing Checklist Parents' Checklist for Fishing Safely with Young Anglers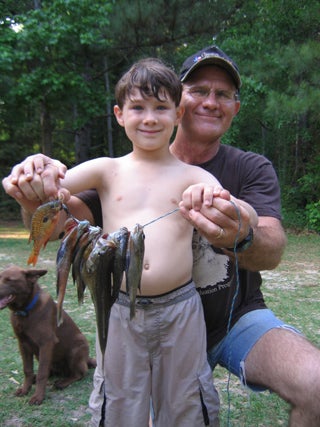 When you go fishing with kids, you need more than fishing gear.  Remember to bring along the right attitude and the right stuff for safety.  The Alabama Department of Conservation and Natural Resources sponsors a number of kids' fishing events throughout the summer, through the Fisheries Section of the Division of Wildlife and Freshwater Fisheries, to encourage interest in angling as a family activity.
Hooked on Fishing International has developed a guide for adults who supervise young anglers.
Everyone should wear a hat and either glasses or sunglasses (preferably polarized sunglasses).
Establish rules such as: No running. Keep your shoes on.  Point your rod towards the sky when walking.  Look around for people and obstructions before you cast.
Anglers should learn the overhead cast first.  The overhead cast teaches proper technique and is safer than side casts.
Set up a buddy system. The youngest anglers need an adult "buddy" and constant supervision.
Make sure each young angler, swimmers and non-swimmers alike, wears a personal flotation device at all times—on the boat, on the dock, or on the shore.
Bring a long-handled fish net, not just for netting fish, but in case it is needed to reach out to someone in the water. It will also retrieve trash or valuables from the water.
Take a first aid kit with medical supplies to deal with cuts and scrapes, bruises and bumps, bites and boo-boos.
Plan for cold drink breaks. Summer temperatures can get pretty warm, so bring lots of cool water and other healthy drinks and make sure the young anglers drink fluids often to prevent dehydration or even heat stroke.  Liquids are important in the winter also.
Sunscreen is a necessity.  The ultraviolet (UV) light of the sun can do a lot of damage to skin, eyes and lips.  Outfit young anglers with proper sunglasses, a billed cap, and clothing appropriate to the climate and sun conditions.   Avoid fishing in the middle of the day.  Cover face, neck, ears, the back of hands, and all other exposed skin with a sun protection factor of 15 or higher.
Stay away from snakes.  Most snakes are harmless, but most of the people that have been bitten were trying to catch or kill the snake.
Ward off pests with insect repellent. Mosquitoes, ticks, bees and other insects not only sting, they can carry diseases.
Always remember that safety comes first. Look for trouble before it finds you. If it finds you anyway, you will be prepared to deal with it.