Black Bass Length at Age
This ruler was created to help illustrate the average size at age of Black Bass species found in public rivers and reservoirs across Alabama. This data was collected by the Fisheries Section of the Alabama Division of Wildlife and Freshwater Fisheries (WFF) which dates back to 1986 and contains information from over 60,000 bass. Largemouth Bass have been collected up to 16 years old, and Spotted Bass have been collected up to 12 years old. Fish over five years old make up less than 7% of Largemouth Bass and 2% of Spotted Bass from the historical population dataset. Pease read below for more information on our Alabama Reservoir Management Program. Please click below for more information on bass fishing in Alabama and the Bass Angler Information Team (BAIT).
Standardized Sampling of Bass for Population Management
Fisheries biologists with the Alabama Division of Wildlife and Freshwater Fisheries are often seen on reservoirs during the spring and fall collecting fish for standardized reservoir sampling. The Alabama Division of Wildlife & Freshwater Fisheries manages 45 public reservoirs (more than half a million acres of water) through five district offices. Each reservoir is sampled on a routine basis to monitor the population structure of its sport fish species. These samples are conducted in a standardized manner according to the guidelines of the Alabama Reservoir Management Manual so that changes in population characteristics can be monitored over time by comparing to previous samples. Most reservoirs are sampled on a three-year cycle and management recommendations, such as length and creel limits, are determined from this research.
Measuring Your Catch
While using your left hand, place the fish at the very first line "0" and  use your right hand to place the tip of the tail flat against the ruler - this will be your measurement. (ie: 16.25 in)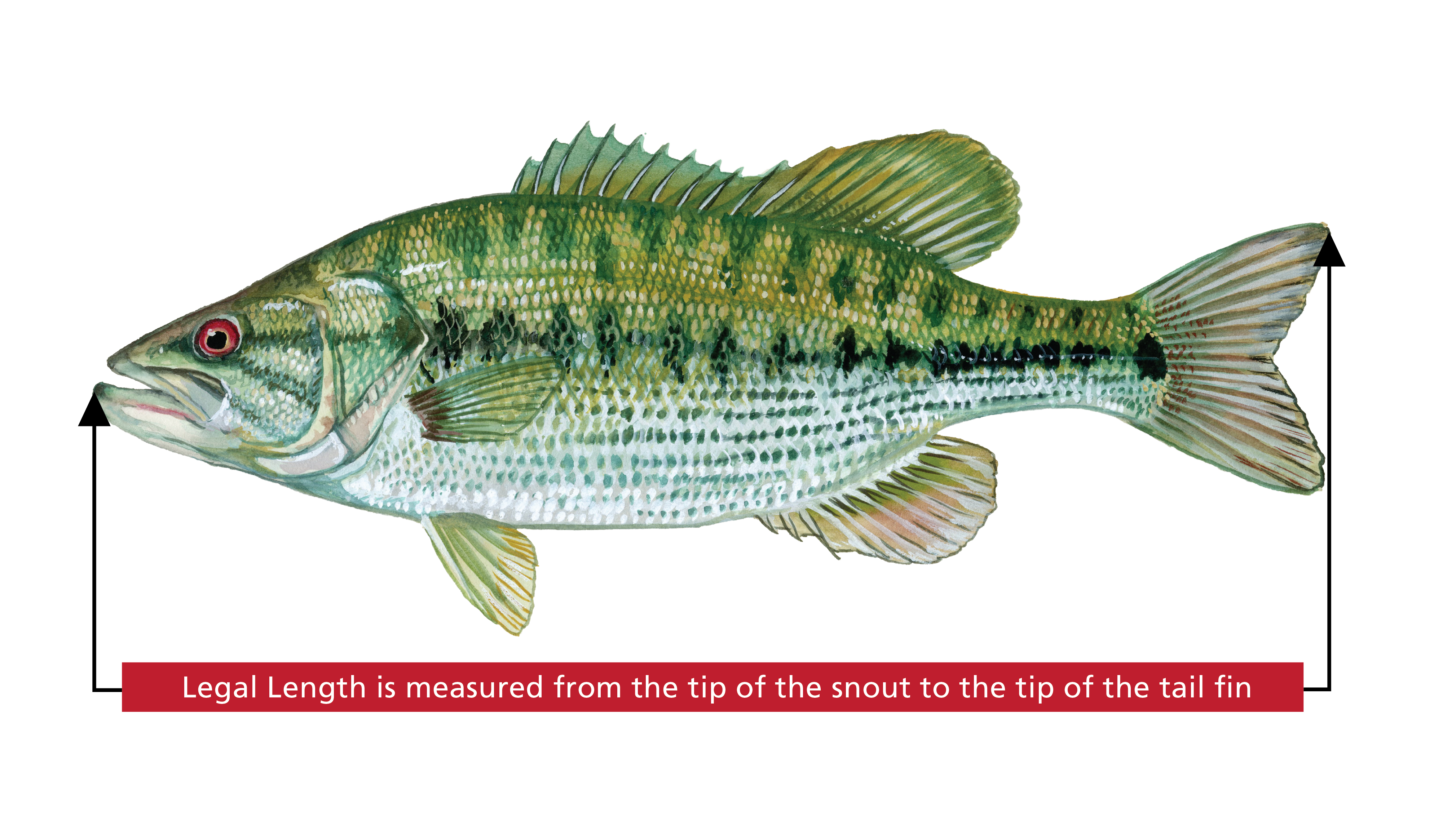 Reading Data
The dark green bar represents the largemouth bass average lengths at the various stages of age. The red bar represents the spotted bass average lengths at various stages of age. 

Contact Us
Contact your local fisheries district office to obtain your very own fish length board. 
Send Us Pictures of Your Catch!
Be sure to send us photos of your catch by messaging the Alabama Wildlife and Freshwater Fisheries Facebook page. Be sure to mention when and where you caught your fish and we will do our best to share it on social media. We look forward to seeing your catch!
---