Fish and Fishing in Aliceville Lake
Background: Aliceville Reservoir, sometimes called Pickensville Lake by local anglers, is an 8,300-acre reservoir located approximately 12 miles northwest of the City of Aliceville in Pickens County. The reservoir is formed by the Tom Bevill Lock and Dam, which is located one mile southwest of Pickensville, just off Alabama State Highway 14. This reservoir is popular with anglers from both Alabama and Mississippi since portions of the impoundment are located in both states. Modern campgrounds, primitive camping areas, and day-use facilities are found around the lake. Two public access areas with bank and boat access and one user fee boating access area service Aliceville Reservoir.
Fishery: Since being impounded in 1980 by the Army Corps of Engineers, Aliceville Lake is best known for its largemouth bass and crappie fishing. Although a moderate number of large bass are present, most bass are 18 inches or less. Sampling in the spring of 2006 revealed that the number of larger bass in the preferred and trophy categories had declined from previous collections. The 2007 BAIT Report, however, lists Aliceville the top bass fishing lake. The harvestable bass population primarily consists of fish between two and four years of age that range from 10 inches to 18 inches in length. Crappie fishing in this reservoir is generally outstanding, and growth and recruitment were above statewide averages during fall sampling activities. Crappie catch rates in this reservoir are excellent. Since October 1993, there has been a 9-inch minimum length limit on crappie. Currently 9- to 12-inch crappie are abundant in this reservoir.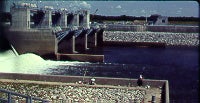 Stocking: In April 1980, the Alabama Wildlife and Freshwater Fisheries Division stocked 100,000 Florida largemouth bass into this reservoir following its impoundment. Since this reservoir lies in border waters with Mississippi, additional stockings were determined to be unnecessary.
Fishing: Aliceville has an excellent tailwater fishery for catfish, crappie, bass, and drum. A fishing pier located on the west bank at Aliceville Reservoir immediately below the dam provides a platform for anglers to fish the tailwaters of Aliceville. Popular top water baits on this lake include willow-leaf spinning lures, Jitterbugs, Torpedo and stick baits. However, many anglers prefer the traditional plastic worm or lizards to catch largemouth bass along submerged weed beds, or along the border of emergent lilly pads or American lotus. Bluegill and redear sunfish are very abundant, and are often found in backwater coves or sloughs near underwater structure. Crickets and small spinner baits are effective for catching these species of sunfish.
When fishing the reciprocal waters of Aliceville Reservoir, refer to Regulation 220-2-.122 in the regulation book for more information.
Contact the Fisheries Section's District III office for specific questions about Aliceville Reservoir.