Fishing the Flint River in Madison County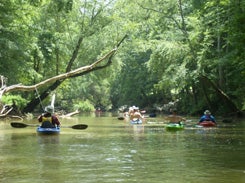 The Flint River originates in Tennessee and flows in a southerly direction through Madison County to the confluence with the Tennessee River. The Flint River has two major tributaries, Brier Fork which flows in from the northwest and Mountain Fork which flows in from the northeast. The Flint River is an excellent float fishing stream in its lower reaches. The river can be easily floated from Patterson Road, Walelia canoe landing to Hobbs Island Road, Chickasaw canoe landing. This section can be broken into several floats with access available at Brier Fork Bridge, Hwy. 72 (Flint River canoe trail Talado landing), Little Cove Road Crossing, Hwy. 431 crossing and Hobbs Island Road/Chickasaw landing. The lower section is an easy float with no difficult rapids to maneuver. The most difficult obstacles encountered will be blown down trees.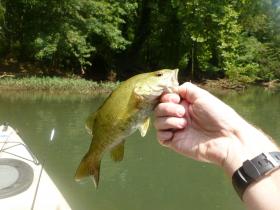 The Flint River provides excellent fishing for spotted bass, largemouth bass, the occasional smallmouth bass, rock bass, bluegill, longear sunfish, channel catfish and bullheads. An ultra-light spinning rod and reel combo or a short fly rod is the appropriate fishing gear. The upper section from Patterson Road to Hwy. 431 is more appropriate for canoe; whereas the section below US Hwy. 431 can be floated with a flat bottom boat.
The upper section of the Flint River offers excellent wade fishing opportunities. The entire Flint River and Brier Fork has been determined or declared navigable waters, which means the bottom of the stream belongs to the State of Alabama. Water access can be obtained from county road bridge right-of-ways crossing the creek. A Madison County highway map can be useful for locating county road bridge crossings, which can be obtained from the district offices of the Alabama Department of Transportation.